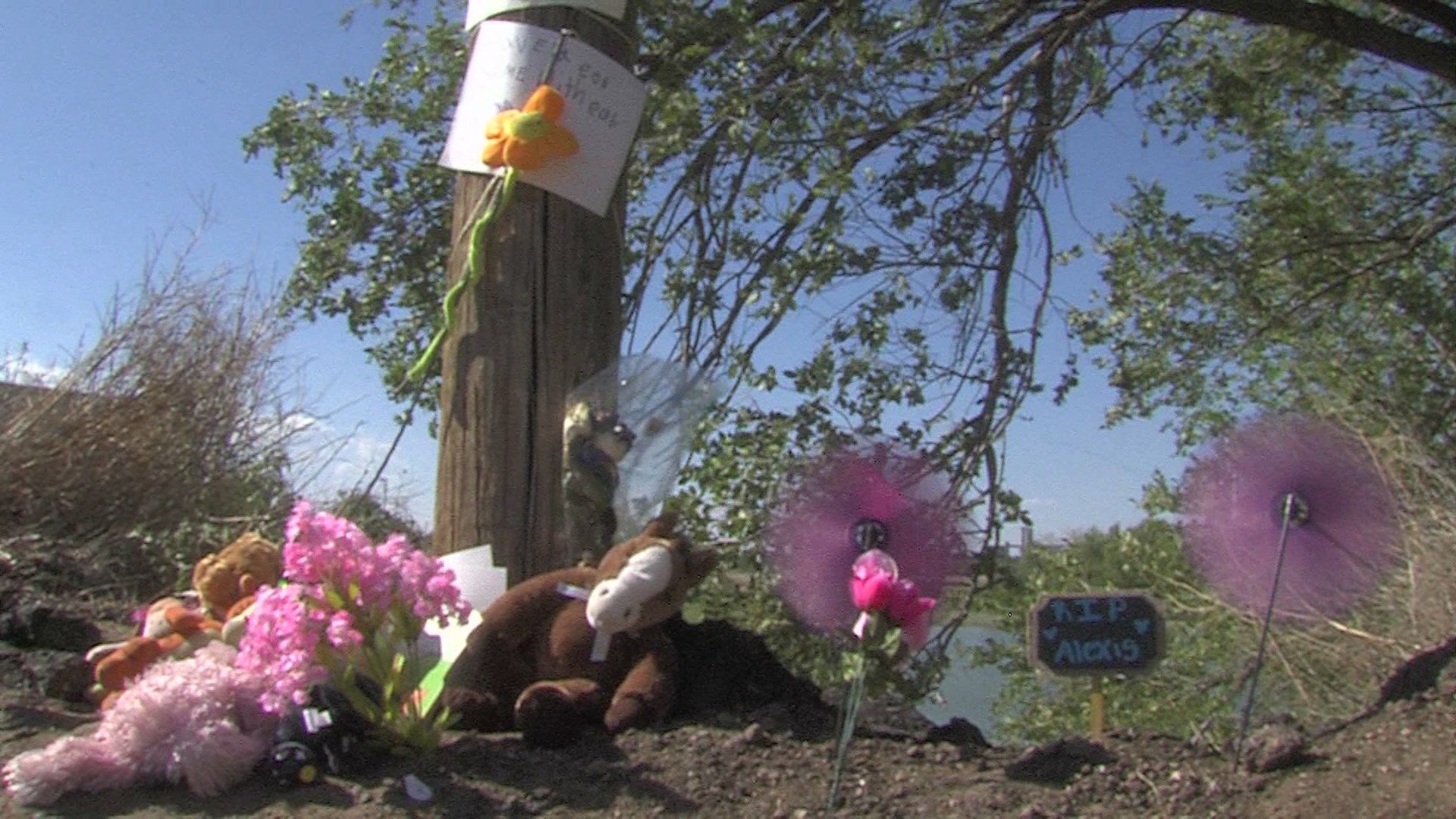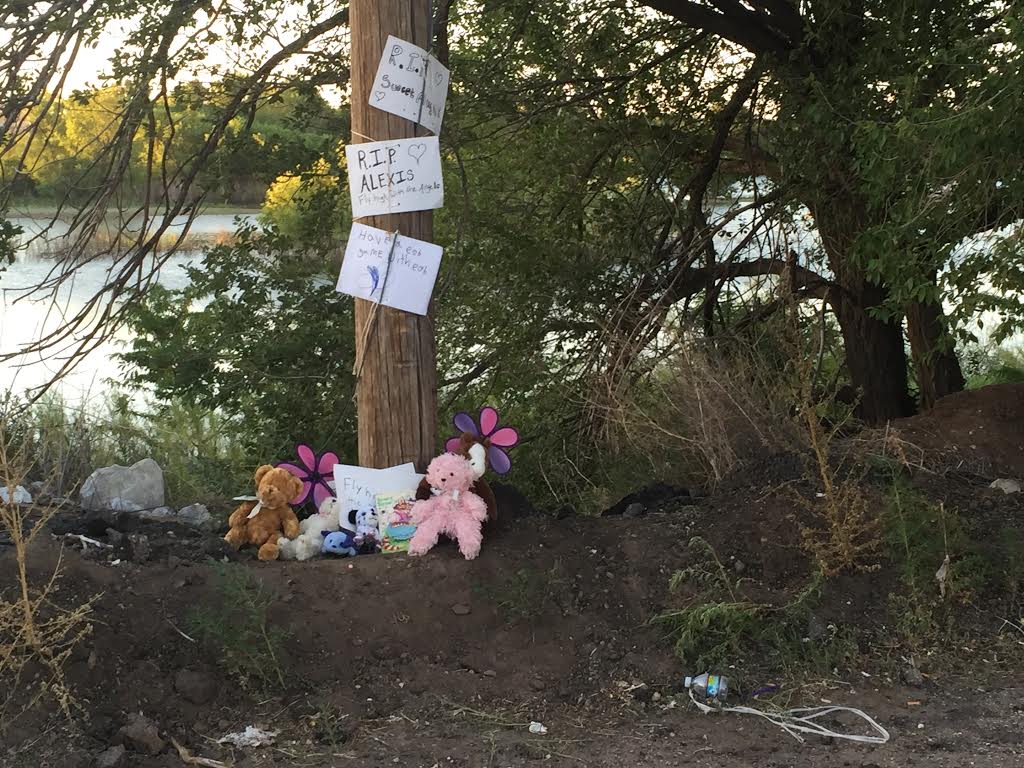 The discovery of a little girl's body in the waters of T-Anchor Lake behind La Kiva Hotel on Wednesday cast a dark cloud over Amarillo.
Alexis Wartena, 7, went missing from the hotel mid-afternoon Tuesday. Police on foot, horses, boats and a helicopter searched fields, structures, vehicles, parking lots, drainage ditches and lakes for her all night and into Wednesday morning.
Searchers' and the family's worst fears were realized Wednesday when police saw something floating in the lake, which divers had searched several times the night before.
Millicent Carlton, the child's aunt, confirmed that it was Wartena's body police recovered.
Two police officers held a tarp for privacy as eight others stood in somber silence, heads bowed. Then they carried her to the La Kiva parking lot, where her body was placed on a cart and then into a vehicle.
Alexis' autopsy is scheduled for Thursday in Lubbock, police said.
She was a child with nonverbal autism, her family told investigators. Alexis' special situation called for a huge search effort. First responders from Potter and Randall counties employed every means possible, including volunteers, to find the missing child.
According to a missing person notice put out to assist in the search, she could get around "very well," but didn't speak. However, she would respond to her name.
Alexis had four siblings, Carlton said, and three of her four siblings also have autism. Along with their parents, Michael and Tiffany Wartena, they were staying on the ground floor.
Carlton, who is Tiffany's sister, said Tiffany went to use the restroom and Alexis got out of the hotel room.
"She was a beautiful little girl, absolutely beautiful," Carlton said. "My sister is beyond devastated."
The family had stopped in Amarillo while driving from Chicago back to Beaumont, Calif.
"They were just trying to do the best for their children," Carlton said. "They were trying to find a new house, a new life."
Carlton and her husband Mike were on vacation in Oklahoma when they received a call from Alexis' mother, breaking the bad news.
"She just called us hysterical, asking how fast can you guys get here," Mike Carlton said.
The deceased girl's parents are upset about whether there is sufficient fencing around the lake area, Millicent Carlton told a journalist Wednesday evening.
"You tell me, if that fence was up, would that little girl have gotten out?" she said.
As is often the case with such tragedies, questions linger about how such an event could occur.
Alexis' vulnerability only augments these concerns.
Gallery – View photos from the search
A unique challenge
"I feel like many people think either the parents or the hotel are liable," Amy Simpson, a board-certified behavior analyst and one of the coordinators at Amarillo Applied Behavior Analysis, told the Amarillo Globe-News on Wednesday afternoon. "But that's just not the case."
Amarillo ABA has been open for two years, and currently educates and counsels about 18 children with autism. Twelve of those are children with nonverbal autism.
According to Simpson and her colleague Sinci Rios, it is quite common for children with autism to venture out on their own. Any number of factors could contribute to a child with nonverbal autism running away from their parents.
"If they see something very reinforcing, they will work to get to it," Simpson continued. By "reinforcing," the behavior analyst meant something the child likes.
"If she was hot and wanted to swim, she could have gone off to do that without being aware of her surroundings."
Rios added that children with this form of autism often have "tunnel vision" when it comes to getting something they want. Although nonverbal autism is a wide and varied condition, it always entails difficulties with communication. This means that often children will go to great lengths to reach something upon which they are fixated, since it is difficult for them to express their desires, she explained.
Finding a missing child, which is of the utmost importance to officials involved in the search, is already a difficult task. Alexis' form of nonverbal autism made a search-and-rescue effort even more challenging, but it also made parenting incredibly difficult, according to Rios.
"If you have a child with nonverbal autism, you have to be on high alert all the time," Rios continued. "You're always guessing what they want, and if there was something bothering the child … then that also could have motivated her to leave."
The most recent study offering hard numbers on missing children was completed by the U.S. Department of Justice in 2002. It showed that 797,500 children went missing in 2001. Upwards of 300,000 of these children were abducted, and many more wandered off on their own or suffered other incidents that separated them from parents or guardians.
Simpson stressed it's too early to point fingers or blame.
"It could have happened to anyone, anywhere. Think about Medical (Center) Park, There are no fences around the water there, either."
Behind the La Kiva Hotel is a parking lot and hill that slopes downward toward T-Anchor Lake, where the body was found. Adjacent to La Kiva is the Sleep Inn, which has a fence to separate the hotel grounds from the body of water.
Law Digest, a U.S. law specialty site, says that hotels are not legally responsible for the absolute safety of guests. Hotels, they say, "may be found negligent if they knew or should have known, upon reasonable inspection, of the existence of a danger or hazard and failed to take action to correct it and/or warn guests about it," and that "hotels have an affirmative duty to inspect and seek out hazards that may not be readily apparent, seen or appreciated by patrons and guests." But it also says, "the law does not protect hotel guests from their own negligence," and "open and obvious" hazards are not a basis for liability.
According to police, La Kiva did not have any security camera footage of any area other than the guest lobby and check-in desk.
Video surveillance is often taken for granted, and it can greatly assist in investigations such as these, but video surveillance is not required by law.
The Globe-News contacted La Kiva Hotel twice Wednesday for comment, but did not receive a response. Multiple news reports say the hotel has started a GoFundMe care fund for the grieving family.
"No one should be mad at this mom, or this dad, or these siblings," said social worker and patient advocate Alanna Hepler, who works at ProStep Rehab, which specializes in pediatric, occupational, physical and speech therapy services.
"There's nothing that the hotel could have done, either," Hepler said. "The type of attention and monitoring that our children require is demanding. They just slip out. It's a horrible accident."
Hepler's son, Ethan, was diagnosed with nonverbal autism in 2010. She spoke emotionally about the joys and difficulties of raising her son with all the special attention he requires.
"There was the longest time when he wouldn't even respond to his name," she said. "Ethan is like Alexis: he hasn't spoken a word since he was 18-months-old. He loves the water, and will wander. He walks softly, and is small in stature like Alexis. They're just adorable, but they are quiet."
Hepler hopes the community will become more aware of the unique circumstances that surround a case like this, she said, and how to appropriately respond to the needs of those with nonverbal autism.
"They don't have the ability to cry out for help. We as a community have to be aware that children like this aren't going to respond to many vocal cues," she said. They also don't have that safety awareness that is instilled by parents or guardians in most children in a similar age group.
"What happened to Alexis is our worst fear. Not just as parents, but I think our caregivers, our teachers, our therapists … It just takes one moment of inattention, and then you turn around and just like that they're gone. The autism community in Amarillo has a broken heart."
Hepler also hopes the citizens of Amarillo will organize to show support for the Wartena family.
Story provided by Amarillo Globe-News.
If you have any questions or need legal advice, feel free to contact me directly at your convenience.