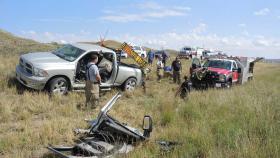 Photo Courtesy Amarillo Globe News
A Wednesday afternoon wreck on U.S. Highway 287 between a tractor-trailer and a pilot truck sent the truck driver to a hospital with serious injuries.
About 2 p.m., Potter County deputies were dispatched to the highway just north of the Canadian River, Texas Department of Public Safety Trooper Chris Ray said.
Witnesses said the truck was trailing a tractor-trailer, which was hauling a 17-foot-wide gas compressor. The truck slowed as it climbed a hill. Another tractor-trailer did not slow down and rear-ended the truck.
Potter County firefighters extricated the driver of the truck, Dean Gray, using the Jaws of Life. Gray was transported to Northwest Texas Hospital by ambulance.
"Fortunately, this was not a fatality," Ray said. "The semi rear-ended the (pilot truck) and he rolled to a stop in the median."
Joe Roe was driving the tractor-trailer that Gray was following.
"We were going slow, climbing that hill, and he got hit from behind," Roe said. "When I get there, he was conscious, but didn't know where he was at. His eyes were open, but he wasn't there."
Roe said he remembered his West Odessa Volunteer Fire Department training and told Gray to keep breathing and not to move.
"It's a good thing he was following farther behind, because he got slammed so hard his truck was passing me," Roe said.
Rick Meadows, the driver of the front pilot truck, said the accident wasn't Gray's fault.
Kenneth Hunt, the driver of the tractor-trailer that rear-ended Gray, said he couldn't slow down in time to avoid the accident.
"I was driving and looked up and saw him moving to the shoulder, and I couldn't get over and ended up hitting him," Hunt said.
Responders shut down the right shoulder and left northbound lane of the highway. Traffic was minimally affected.
The incident was under investigation Wednesday afternoon, and no citations had been issued.
Story provided by Amarillo Globe News.
If you have any questions or need legal advice, feel free to contact me directly at your convenience.