Peyton Trueblood's death has to be one of the most senseless deaths in Panhandle history. Her supervisors at Texas Panhandle Heritage Foundation, people she looked up to for advice and training to keep her safe at her job, set her up for certain death. Even worse, those responsible have yet to come forward with the truth about how and why Peyton Trueblood was killed. The question we should be asking is "Why?" After all, what do they fear if they have done nothing wrong? The "truth" should set them "free," right?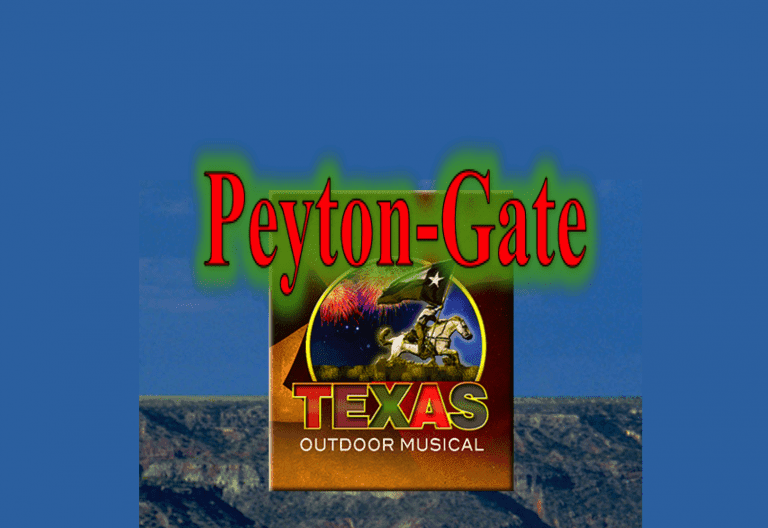 The Texas Panhandle Heritage Foundation knows what really happened to Peyton Trueblood, but has cowered in fear of possible lawsuits or criminal charges for recklessness, or even manslaughter. That is, until recently, when it boldly suborned lies to the public via their trusted minion, Lt. Dennis Rice of the Randall County Sherriff's Office.  In his interview with KFDA, Rice lied to the public, claiming all OSHA violations were dismissed and that their entire cast and crew "feel safe." His lies reek with desperation.
The Foundation employees who were responsible for safety with all aspects of the fireworks show were Blaine Bertrand and Lt. Rice. These two men run private fireworks display events when they are not working their usual jobs as Randall County employees. Bertrand is a civilian employee at the Randall County Sheriff Office. Rice also moonlights as Randall County's Fire Marshall. How convenient! He has the luxury of approving his own safety standards and assuring federally mandated precautions are taken when it comes to Foundation firework displays for Texas.
The day after the explosion, a crew member who worked very closely with Peyton, resigned. He quit because of the dangers and the way his supervisors were handling matters. Cast and crew members were instructed by board members to "keep quiet" and not discuss the explosion or any policies or procedures with anyone. According to him, Bertrand and Rice both advised all cast and crew members, including Peyton Trueblood, that it was safe to use their cell phones to listen to music while working inside the firework magazine, so long as their cell phones were on "airplane mode." Rice and Bertrand also provided flashlights for crew members to use inside the magazine since there were no lights. Until now, these facts have been hidden from the public. Why? Because the State Fire Marshall has concluded that the most probable cause of the explosion was cellphone use at or near the explosion site.
Since the Randall County Sheriff's Office has refused to investigate on its own, Peyton Trueblood's parents have requested help from the Texas Rangers Public Integrity Unit to investigate the death of their daughter. Surely, some of the important questions for the Randall County Sherriff, the Foundation, Bertrand and Rice will be:
Why hasn't Randall County Sherriff's Office investigated the incident for possible criminal conduct?
Who decided there would be no criminal investigation?
Did either Bertrand or Rice use Randall County resources (county vehicles and/or fuel) to travel to and from the show in Palo Duro Canyon?
Why were Texas crew members told it was safe to use cell phones and flashlights at or near the firework magazine?
Did Bertrand or Rice remove, alter, destroy or fail to preserve any evidence from the scene of the explosion, prior to the State Fire Marshal's arrival? If so, why?
Did Bertrand or Rice instruct anyone to alter, destroy or fail to preserve evidence prior to the Fire Marshall's arrival?
Did Foundation board members participate in the scene "clean up" prior to the State Fire Marshall's arrival? If so, which board members and at whose instruction did they do so?
What financial benefits have Bertrand or Rice gained from their involvement with Texas?
What financial benefit has Sheriff Joel Richardson's construction company received from the Foundation in the past?
Why was West Texas A&M storing fireworks in the storage magazine? Who gave the University permission to use the magazine? Did anyone profit from the University's purchase or storage of fireworks? If yes, who profited and how much?
Has the Foundation permitted some of its board members to use the Foundation as a conduit to profit personally from private firework ventures? If so, has the Foundation properly reported any and all revenues as "unrelated business income" and which board members have profited?
Have foundation supervisors or employees encouraged a culture of alcohol and drug use by Texas cast and crew before, during and after shows? If yes, who?
If you have information regarding any of the issues addressed in this Editorial Opinion Article, please contact Quackenbush Law Firm at 806-374-4024. Your identity will be protected and you may remain anonymous. 

Peyton Trueblood (above), who was killed in an explosion while working for the Texas production.