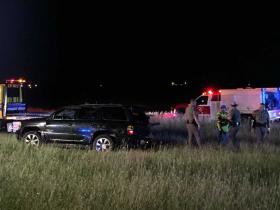 Photo Courtesy of Amarillo Globe News
The father of PGA golfer and Amarillo native Ryan Palmer was killed in a rollover accident about 8 p.m. Tuesday on Loop 335 near the State Highway 136 exit, Department of Public Safety troopers said in a news release issued Wednesday morning.
A 2005 GMC Yukon driven by Charles Franklin "Butch" Palmer, 71, of Amarillo, was headed north on Loop 335 two miles north of Amarillo. Butch Palmer overcorrected trying to get back on the roadway and lost control, troopers said. The Yukon rolled several times. Butch Palmer was not wearing a seat belt and was ejected from the vehicle.
Potter County Justice of the Peace Thomas Jones pronounced Palmer dead at the scene. Next of kin have been notified, troopers said.
Ryan Palmer is currently ranked 37th in the official world golf rankings and 55th in the FedEx Cup. Palmer played in the PGA Championship over the weekend and missed the cut, placing 147th after the first two rounds.
Ryan Palmer played golf at Amarillo High School and later for the University of North Texas and Texas A&M University.
His PGA debut came in 1998 and he turned pro in 2000.
Since becoming a successful golfer, Ryan Palmer moved to Colleyville in the Dallas-Fort Worth metroplex but is actively involved in charity work in Amarillo. He established The Ryan Palmer Foundation fund to help junior golfers by funding their tournament fees and North Texas PGA dues.
In 2009, the Palmer Foundation gave $100,000 to the Children's Hospital at Northwest Texas Healthcare System to build a nine-hole putting green called the Ryan Palmer Foundation Healing Garden. Additionally, he donated $50 per birdie and $100 per eagle to the hospital in 2010 as part of the Birdies 4 Brighter Smiles fundraiser.
Butch Palmer is listed as board member and his "son's No 1 one fan" on the Ryan Palmer Foundation's website.
Story provided by Amarillo Globe News.
If you have any questions or need legal advice, feel free to contact me directly at your convenience.