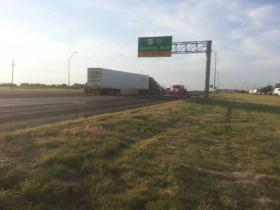 Amarillo, TX– A 21-year-old man was killed Wednesday after the car he was driving was struck by a tractor-trailer on Lakeside Drive, Amarillo police said.
Sgt. Brenda Hadley reported the man was driving a green Subaru west on a road south of Amarillo Boulevard intersecting Lakeside near the East Amarillo Boulevard exit when he attempted to turn south.
A tractor-trailer headed north on Lakeside collided with the Subaru on the driver's side. Emergency responders were dispatched to the scene of the wreck at 5:30 p.m., and the driver of the Subaru was pronounced dead at 5:35 p.m. by Amarillo Medical Services.
Traffic in the northbound lanes of Lakeside near the Boulevard exit was diverted and became congested as responders worked to clear the wreckage.
Police said the victim works in Amarillo but were unsure where he lived.
No one else was injured in the accident, and no citations had been issued at press time, Hadley said.
An autopsy of the victim has been ordered.
Story provided by Amarillo Globe News. ABC 7 News and KAMR 4 also reported on this story.
If you have any questions or need legal advice, feel free to contact me directly at your convenience.